Header image: Officers of 602 Sqn pose for a group photograph at Westhampnett during the Battle of Britain in 1940. John Hart is fourth from left in the back row. Remarkably all the pilots in this picture survived the Battle of Britain, although four of them were killed in action during the following year.
As we approach Battle of Britain Day on 15th September, the number of living veteran airmen who flew and fought in the Battle in 1940 has dwindled further with the deaths of two of 'The Few' in the last few weeks.
Flight Lieutenant Archie McInnes – who flew Hurricanes during the Battle of Britain with both 601 (County of London) Squadron RAuxAF and 238 Squadron, and who in recent years had become a friend of the BBMF – died at the end of the day of his 100th birthday celebrations. Having survived the Battle of Britain in 1940, Archie was shot down in a Hurricane over the Western Desert in October 1941. He crashed at 200mph, suffering a broken neck, which was not immediately discovered and so was not treated until later. In hospital he contracted septicaemia and typhoid and had to have the lower part of his left arm amputated. He was fortunate to survive, but he recovered and was allowed to continue flying, using a special prosthetic grip that he designed and built himself to control the Hurricane's throttle. Sadly, Archie McInnes passed away on 31st July, just hours after celebrating his 100th birthday amongst friends and family. He was a true hero and an inspiration; he will be missed by many, including his friends at the BBMF.

It has also recently been announced that Canadian Squadron Leader John Hart DFC passed away on 18th June, aged 102, in British Columbia. John Hart joined the RAF in January 1939 and, after flying Westland Lysanders for a period, he transferred to fighters and flew Spitfires with 54 Squadron and 602 Squadron RAuxAF during the Battle of Britain. Hart claimed a Bf 109 destroyed on 29th October 1940 and on 13th November he shared in the destruction of a Junkers Ju88. He was the last survivor of the 112 Canadian pilots who flew with the RAF during the Battle, 23 of whom lost their lives, whilst fewer than half of them survived the war. Hart continued to fly throughout the war in various front-line and training roles. He commanded 67 Squadron in Burma from May to July 1943, flying Hurricane Mk IICs, and from April to August 1945 led 112 Squadron in Italy on ground attack operations with their 'shark mouth' North American P-51 Mustang IVs. After logging 1,452 flying hours, most of it in combat, he was awarded the Distinguished Flying Cross in 1945.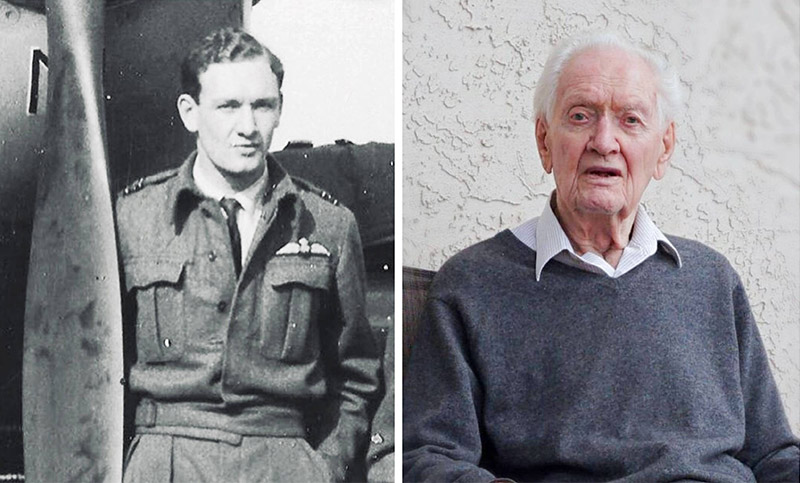 The passing of Archie McInnes and John Hart leaves only four of 'The Few' still alive: Flight Lieutenant William Clark DFM (219 Squadron Bristol Blenheim Air Gunner and later Beaufighter radar operator, aged 100); Wing Commander Paul Farnes DFM (501 Squadron Hurricane pilot and official fighter ace, aged 101); Group Captain John Hemingway DFC (an Irishman who flew Hurricanes with 85 Squadron, aged 100) and Flight Lieutenant Maurice Mounsdon (56 Squadron Hurricane pilot who was shot down, burned and became a member of the famous Guinea Pig Club, aged 101). BBMF Hurricane LF363 has previously carried the markings of Maurice Mounsdon's 56 Squadron Hurricane 'US-C' from 1998 to 2005, and the code letters of Paul Farnes' 501 Squadron Hurricane 'SD-A' (on its starboard side) in 2017 and 2018.

Sadly, we are approaching a point where the Battle of Britain will pass from living memory from the point of view of those who fought in it, but the debt we owe does not lessen or diminish with their passing. It is all the more important that subsequent generations carry on their legacy, remember the importance of that crucial moment in history and ensure that the achievements, heroics and sacrifices of those involved in the Battle are never forgotten.