Header image: 2016 Experience Day prize winner Karen Shortland and her guests watching Hurricane LF363's pilot 'crew in' from close range (All photos: Clive Rowley)
The RAF Memorial Flight Official Club ballot prize for March is a fantastic, 'money cannot buy', chance of a lifetime, Experience Day at the BBMF at RAF Coningsby on one of the planned weekend flying days during the display season.
The lucky winner will be able to bring up to three guests to RAF Coningsby on Saturday 24th June, which is Armed Forces Day. The BBMF is always heavily committed to supporting events on these occasions and, weather permitting, it promises to be an extremely busy day at the Flight's HQ at RAF Coningsby.
The planned flying programme includes the Lancaster, the Dakota and several of the fighters (Spitfires and Hurricanes). The Lancaster and three of the Spitfires will return later in the day, whilst the remaining aircraft will be landing away elsewhere for overnight stops. Weather permitting, the winner and guests should get to see a very busy BBMF flying day, behind the scenes, with the engineers preparing the aircraft, the planning and briefing by the aircrews, aircraft starting up, taxying out and departing, and, later, some of them, including the Lancaster, returning.
The winner and guests will be permitted access to the RAF Station at Coningsby, via the main gate (the BBMF Visitor Centre is closed), and then inside the BBMF HQ, which is not normally open to the public. The escort and host for the day will be Squadron Leader (retired) Clive Rowley, a former fighter pilot and Officer Commanding BBMF, and now the BBMF publications editor.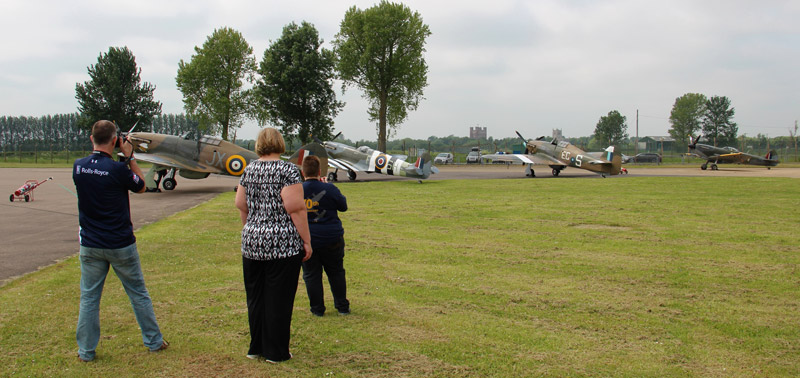 The lucky winner and guests will be able to get to the heart of the action during the day and, depending on timing, they may be able to listen-in to a BBMF aircrew briefing. There will be opportunities to meet and chat with the BBMF pilots, crews and ground crew during the day and to watch the aircraft coming and going from a very privileged stand point. There will also be the chance to get 'up close and personal' with the BBMF aircraft, those involved in the flying and others in the hangar.
The winner of the 2016 Experience Day ballot prize, Karen Shortland, wrote after her day: "It was such a wonderful opportunity to see what goes on behind the scenes … we will have lots of memories to treasure. In fact, we are all pinching ourselves to make sure it really happened!"
(Note this prize is not transferable and is only available for 24th June 2017. Flying is dependent on the weather. Other terms and conditions will also apply).
All in all, this is a fantastic and exclusive prize, available only to Official Club members. If you're not already a member, make sure you join the Club by Sunday 2nd April to be entered into the prize draw.