Header images: Syd Marshall with the Canadian Lancaster FM213 C-GVRA at RAF Coningsby in 2014. Syd is wearing a cap given to him by his Canadian wartime pilot and 'skipper', Luke Morgan.
The BBMF lost a great friend and supporter on 11th December 2017 with the death, at 93, of Syd Marshall, wartime Lancaster Flight Engineer and long-serving volunteer guide at the BBMF Visitor Centre.
Syd was born in 1924 and grew up in Boston, Lincolnshire. He left school in 1938 at the age of 14 and completed an apprenticeship as an agricultural engineer. Despite being in a reserved occupation, in 1943 he volunteered for aircrew with the RAF. He enlisted in January 1944 and, due to his engineering background, he was selected to be a flight engineer rather than a pilot, which would have been his preference. He then completed the extensive flight engineer training at RAF St Athan in Wales. Syd said that his graduation 'Wings' parade consisted of going to stores to sign for two flight engineer brevets and some Sergeant's stripes. That was it! The best part he said was the pay going up from 3 shillings a day to 12 shillings and sixpence a day.
He joined a heavy bomber crew captained by Canadian pilot Luke 'Lou' Morgan from Alberta. In the traditional Bomber Command method everyone was put into a hangar to select their own crews. Syd said that he never knew whether Lou picked him or he chose Lou. But he also said of Lou: "He was my skipper and he became my friend. We became very close, closer than family. We were like brothers really."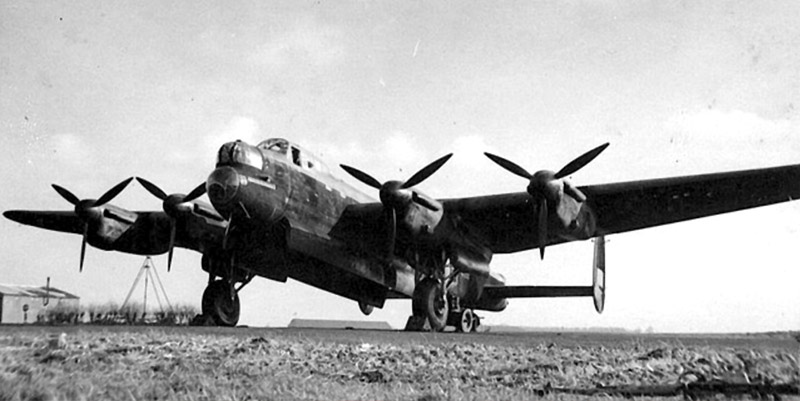 After training together on Handley-Page Halifaxes and completing a one-week course at the Lancaster Finishing School at Hemswell, the crew was posted to an operational squadron with a total of 9 hours and 25 minutes on Lancasters. The crew joined 103 Squadron at Elsham Wolds, a unit which was the subject of "No Christmas for them 75 years ago" in the December newsletter; a squadron that lost 179 aircraft with 1,338 aircrew killed, missing or captured during the war. Syd said Elsham Wolds was "the wettest, coldest, muddiest, most uninviting place you can find."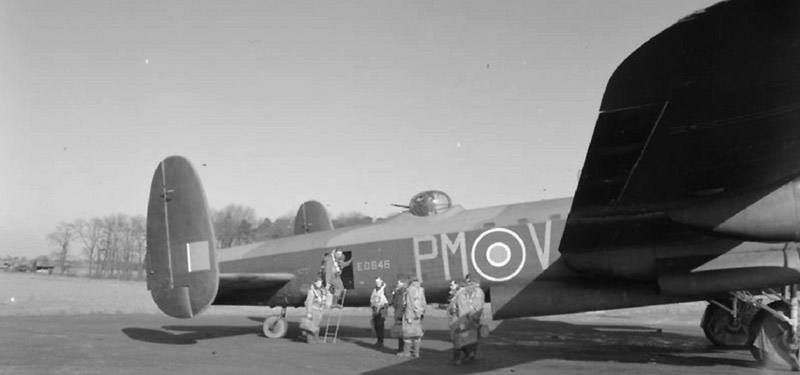 Their first operation ('op') together as a crew was on the night of 14/15th October 1944, on the third wave of the 24 hour bombing operations against Duisburg as part of Operation Hurricane. RAF Bomber Command raided the target on two successive nights, 13/14th and 14/15th October, and the USAAF Eighth Air Force bombed it in between in daylight. As Syd and his crew were outbound to the target on the evening of 14th October they passed the Eight Air Force bombers returning. Syd said that there must have been close to 3,000 aircraft in the sky; a sight he would never forget. Their Lancaster was hit by 'flak' shrapnel in one of the engines on the run up to the target and oil from the engine caught fire. Syd shut down the engine, feathered the propeller and operated the fire extinguishers. The fire went out and they completed to mission on three engines.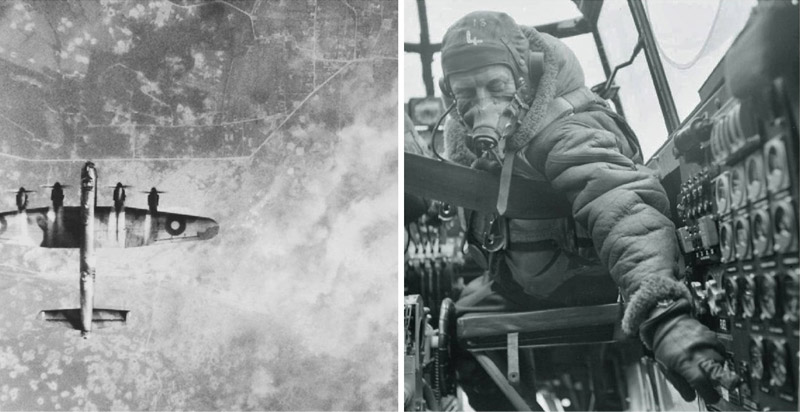 Syd and the crew flew 36 'ops' together to complete their tour. On one mine-laying 'op' they were attacked by a German night fighter. The quick reaction of Syd's pilot, Lou, to the rear gunner's alarm call meant that the burst of fire from the German night fighter "only took the top off the fin and tip off the wing". Syd remembered seeing the night fighter flash past "over my right shoulder". He also said, "A split second later and he'd probably have had us." On a daylight raid to Mannheim near the end of their tour they watched a Lancaster, flown by a crew from their Squadron who they knew well, being shot down by 'flak' no more than 100 yards away from them. They also came very close to having a mid-air collision with another Lancaster trying to land at Elsham Wolds. Syd maintained that he was never really scared on 'ops', more excited. He said, "When you've been doing it for a while it becomes normal. You feel that you're going to be alright; it will happen to the other guy. It was an experience. Something I'll never forget." He also pointed out that they were not very old: "Lou was 21 and I was 20 when we finished out tour of ops. I wasn't even old enough to vote!"
After the war Syd returned to his roots and to his job as an agricultural engineer. Then, after he retired, he became a volunteer guide at the BBMF Visitor Centre for 28 years. He was the last of the wartime aircrew to be a guide at the Visitor Centre and there must be thousands of visitors who have been privileged to have heard Syd's take on the Lancaster: "The Lancaster was the star of the show, no question. I flew in other planes like the Halifax, but the Lancaster was ahead of its time. Everyone wanted to be in one." He also gave numerous talks to various audiences away from the BBMF.
In 2008 Syd was reunited at the BBMF with his wartime Canadian pilot, Lou Morgan, who he had not seen since the end of the Second World War. The pair visited their base at Elsham Wolds, took their old positions inside the BBMF Lancaster PA474 in the hangar at Coningsby and flew in the BBMF Dakota alongside the 'Lanc'. Sadly, Lou died in February 2009.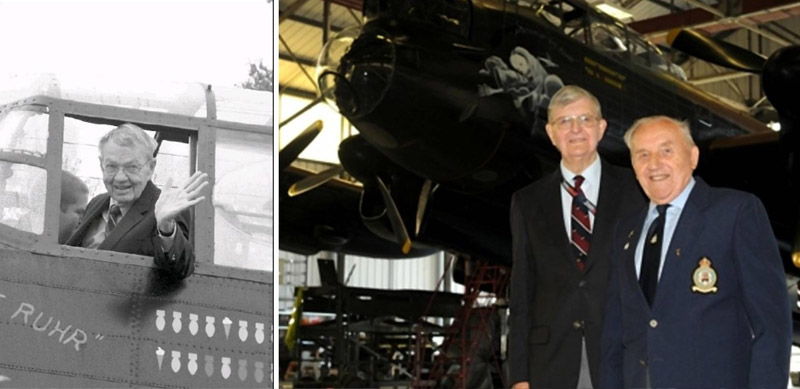 Another unlikely reunion occurred at the BBMF in February 2012 when Syd met wartime 106 Squadron Lancaster rear gunner Norman Smith, who had been in the aircraft that nearly collided with them at Elsham Wolds in 1944. "We've not met before, but we have been very close," joked Syd, "I remember the incident very clearly. We were trying to land when our mid upper gunner suddenly said: 'There's a bloke above us'. Our pilot couldn't bank because he would have hit the Lancaster flying just over us, so we side-slipped away, went round again and then landed."
In 2014, during the visit to the UK of the Canadian Lancaster FM213 C-GVRA, Syd was given a flight by the Canadians when both Lancasters flew over the Derwent Dam. Syd said: "I have waited 69 years for this to happen, something I never thought would, and what a fantastic flight it was. The smell of the fuel, the deafening noise of those magnificent Merlin engines brought it all back to me. Losing comrades was expected during the operations but never easy. I had many thoughts of those friends and comrades that were lost. I feel so honoured to have been invited to be part of the last display flight where both Lancasters flew together in this country before Vera's return to Canada and cannot thank everyone for thinking of me as being worthy enough to be given such an opportunity."
Syd was an extraordinary man, modest to a fault, always cheerful, with a great sense of humour and a true gentleman. He led a remarkably full life and willingly risked his life so that we are free today. He will be missed.