Header image: BBMF Spitfire Mk XVI TE311, in its temporary black primer, taking off for a display at the Royal International Air Tattoo at Fairford in July. (photo: Gavin Smith)
Regular readers of the BBMF publications will know that the Flight's low-back, clipped-wing Spitfire Mk XVI TE311 was due to be repainted in a new colour scheme for the 2017 display season. The Spitfire received a coat of black primer at the start of the season; its rudder, elevators and undercarriage doors had already been painted in the correct finish. However, events then overtook the Flight's best intentions and 'TE' has remained like this since.
The BBMF has now announced that TE311 will not be repainted until after the end of the 2017 display season. The reasons given for this are that it has been difficult to get TE311 into the paint shop at RAF Coningsby because of Typhoons taking priority. In addition, with Spitfire Mk IX MK356 still on its 'Major' servicing at Biggin Hill, and Spitfire PR Mk XIX PM631 still without an engine, the Flight has needed TE311 to continue flying to meet the display commitments.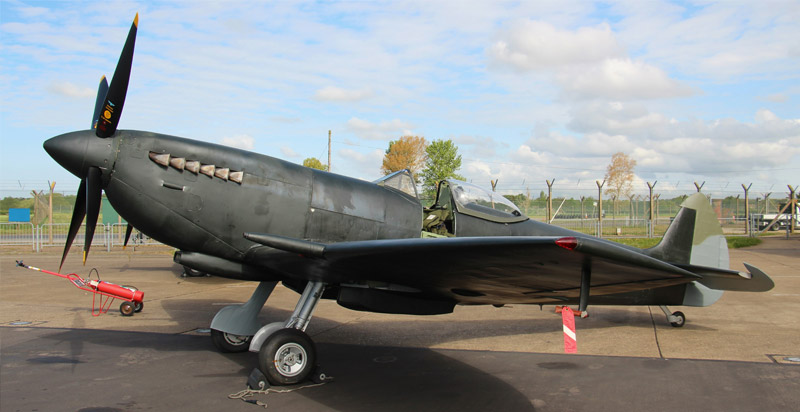 Spitfire Mk XVI TE311 awaits its pilot at the Flight's home at RAF Coningsby. 'TE' has been needed to fly to meet the display commitments. (photo: Clive Rowley)
Many people have commented that they rather like the black 'stealth Spitfire' look of TE311 as she currently appears. She will continue to be displayed like this for the remainder of this display season, but will appear in the new planned scheme, of Polish Group Captain Aleksander Gabszewicz's personal Mk XVI, TD240, 'SZ-G', with its boxing dog nose art, in 2018.