Header image: On 19th January 2020 clipped-wing Spitfire Mk IX MJ755 flew for the first time since 1953, after being restored at Biggin Hill. 97-year-old veteran RAF pilot George Dunn, the pilot who delivered MJ755 to the Hellenic Air Force in 1947, was there to see it. (Photo: Kostas D. Pantios)
Spitfire Mk LF IX MJ755 was built at Castle Bromwich in late 1943. It served with the RAF's No 43 Squadron and took part in Operation Dragoon, flying cover for the Allied forces landing in the south of France in August 1944. The squadron hopped from airfield to airfield in France as the invasion progressed, and then moved to Peretola, Italy, in October 1944. At the end of the war in May 1945 the unit was flying from Klagenfurt in Austria.
After the war the RAF delivered 77 Spitfires to Greece, to aid the nation's efforts in rebuilding their air force. MJ755 was one of the Spitfires sold to Greece, where it was operated by the Hellenic Air Force until its last flight on 8th September 1953. The Spitfire was then placed in storage and later was displayed as a gate-guard at Tatoi Air Base, before being transferred to the newly-formed Hellenic Air Force Museum at Dekelia Air Base, just north of Athens, in 1995. In 2008 the museum took MJ755 off display and partially dismantled it for a planned restoration to airworthy condition.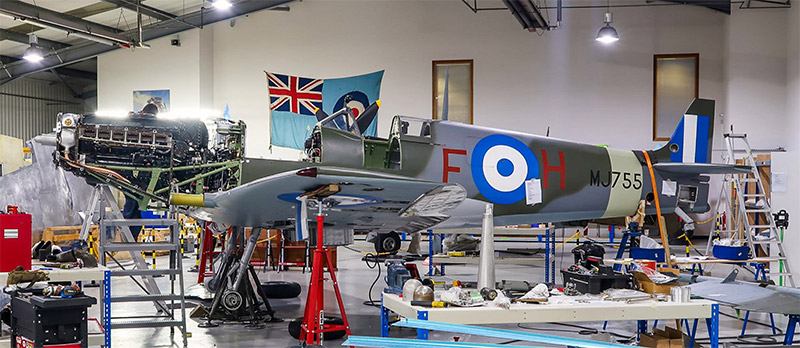 MJ755 arrived with The Spitfire Company (Biggin Hill) Ltd in a container on 23rd March 2018, for a full restoration to flying condition. (The Spitfire Company currently holds the contract for maintenance on the BBMF fighter aircraft, and is presently carrying out a 'major' service on the Flight's Hurricane Mk IIC PZ865.) With restoration complete, MJ755 took to the air from Biggin Hill, in the hands of renowned 'warbird' pilot Peter Kynsey, on Sunday 19th January 2020, the first time it had flown for more than 66 years. The aircraft, which has become known as "the Greek Spitfire", is finished in its original Hellenic Air Force colours and code letters 'F-H'. In due course it will be returned to Greece where it will be the only airworthy Spitfire in the country.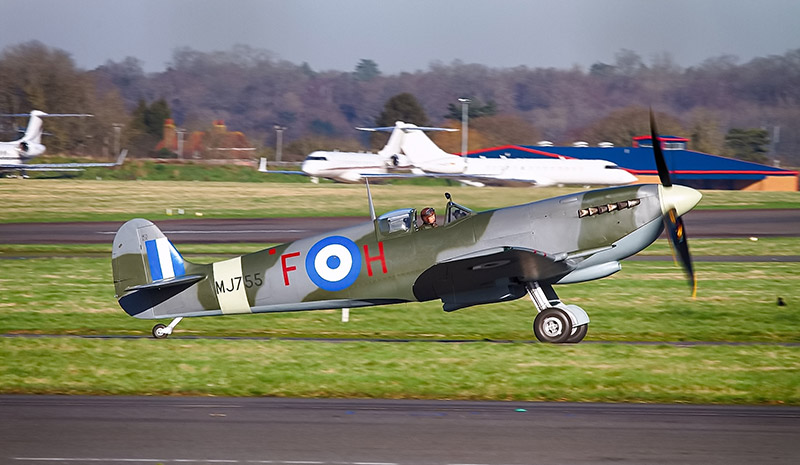 Remarkably, the RAF pilot who delivered Spitfire MJ755 to Greece in 1947, Flight Lieutenant George Dunn DFC LdH, who is now 97 years old, was at Biggin Hill to witness the Spitfire taking to the air again on 19th January. George is a good friend of the BBMF, having visited the Flight on numerous occasions and attended many BBMF events. During World War Two George flew 44 'ops' with RAF Bomber Command: 30 as the captain of a Handley Page Halifax with 76 Squadron and 14 on DH Mosquitos with 608 Squadron. (Some readers may remember that we reported in the September 2018 newsletter on George's return to Peenemunde, which he had bombed in August 1943, as a 20-year-old Halifax captain.)
After the war George was posted, with his navigator, to a Maintenance Unit at Ismailia, Egypt, ostensibly to flight test Mosquitos. When he arrived he was told that the unit only dealt with single-engine fighters and he was needed to test a Spitfire. He had never flown one. Undaunted, he read the Pilot's Notes and with no formal instruction flew the Spitfire without difficulty. In January 1947 George delivered Spitfire MJ755 to Greece. Amazingly, he would meet the aircraft again 72 years later.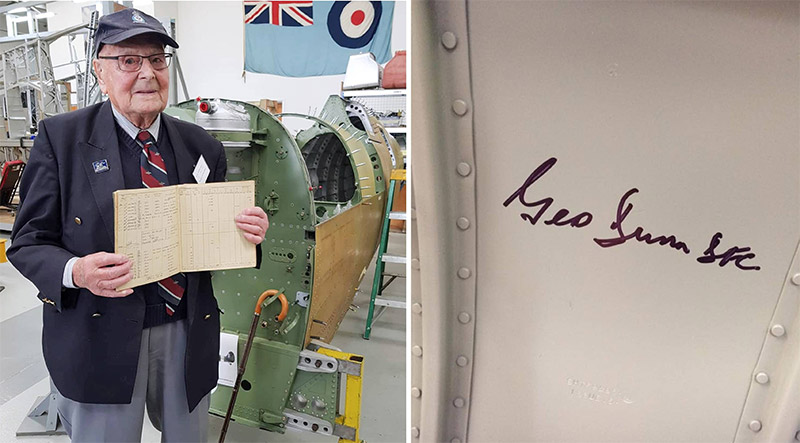 During a visit to the Spitfire Company's Heritage Hangar at Biggin Hill with his logbook in 2019, it was discovered that George had flown the "Greek Spitfire" which the company was in the process of restoring to flight. Such a remarkable coincidence did not go unrecognised and he subsequently became quite a celebrity at the hangar to see every important stage of the restoration. So it was that George was present when MJ755 took to the air once again on 19th January, 73 years after he had flown it!