Header Image: Spitfire cockpit experience winner, Club member Rebecca Cooper (left), with her partner Mark Brown (centre) and son William Brown (right) in front of BBMF Spitfire Mk IX MK356. (Photo: Clive Rowley)
The RAF BBMF offers its Official Club members some 'money cannot buy it' experience ballot prizes each year; one of these is a Spitfire cockpit experience. This year's winner of the Spitfire cockpit experience, Club member Rebecca Cooper from London, took up her prize on 7th August.
Rebecca became a Club member because her late father, Laurie Cooper, was a wartime Lancaster navigator with 61 Squadron, in the crew of Australian pilot Frank Mouritz. The crew flew over 30 bombing operations over enemy territory, some of them in Lancaster EE176, named 'Mickey the Moocher', whose nose art and markings were worn by BBMF Lancaster PA474 from 2000 to 2006. The pilot Frank Mauritz married Laurie's sister, Kath, and so was Rebecca's uncle.
On 7th August Rebecca visited the BBMF hangar at RAF Coningsby with her partner Mark Brown and their son William Brown. Rebecca gave up her opportunity to sit in a Spitfire cockpit to William, who had just completed an in-depth research project about the role of the RAF in the evacuation of Dunkirk for his MPhil degree and so had a particular interest. Club editor, former BBMF Spitfire pilot and OC BBMF, Clive Rowley, hosted the experience in the BBMF hangar and began by giving the visitors a detailed explanation of Spitfire Mk IX MK356 and its remarkable wartime history with a walk around the exterior. After this, first William and then his father Mark settled into the tight confines of the Spitfire cockpit and Clive explained the controls, switches and instrumentation to them. Both were able to experience first-hand what it is like in the cockpit of a Spitfire. William commented that there was a lot more in the cockpit than he expected and that it was a very interesting experience.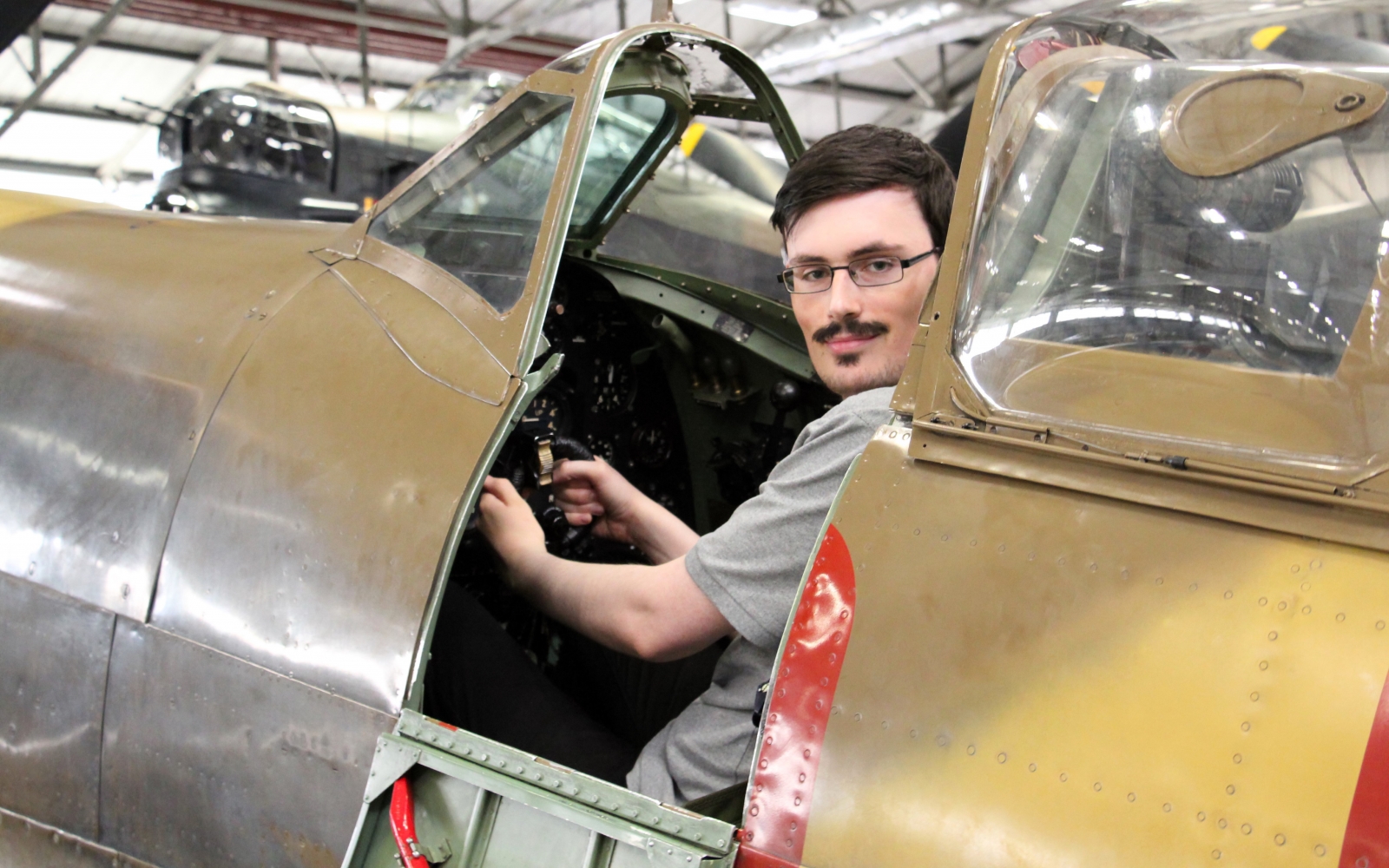 Once the Spitfire cockpit experience was complete, the family had a privileged tour of the other aircraft in the BBMF hangar, especially the Lancaster which holds a special place in Rebecca's heart.