Header images: Left: Joy Lofthouse in ATA uniform in 1943, aged 20.
Right: Joy was a guest in the Royal Box at Wimbledon Centre Court in July 2016. A keen tennis player in her youth, she received an ovation from the crowd.
Joy Lofthouse, one of the last surviving female Air Transport Auxiliary (ATA) pilots who delivered aircraft of all types during the Second World War, died on 15th November, aged 94.
Long-standing members of the RAF Memorial Flight Official Club may remember that Joy kindly provided some reminiscences for us, in her own words, recalling her experiences for an article which was published in the Club's 2016 Club Autumn Journal.
Joy Lofthouse joined the ATA in 1943 after seeing a notice in Aeroplane magazine calling for women to learn to fly. Both she and her elder sister, Yvonne, who was sadly already a war widow, applied and both were accepted for ATA pilot training. Joy said: "When the war broke out all our RAF boyfriends would talk about was flying so when I saw the advert I decided to apply."
Joy was one of only 164 female pilots in the ATA, with 1,153 male pilots, but she said, "Once I was accepted, there was no sex discrimination at all. In fact, I don't think those words had been invented back then."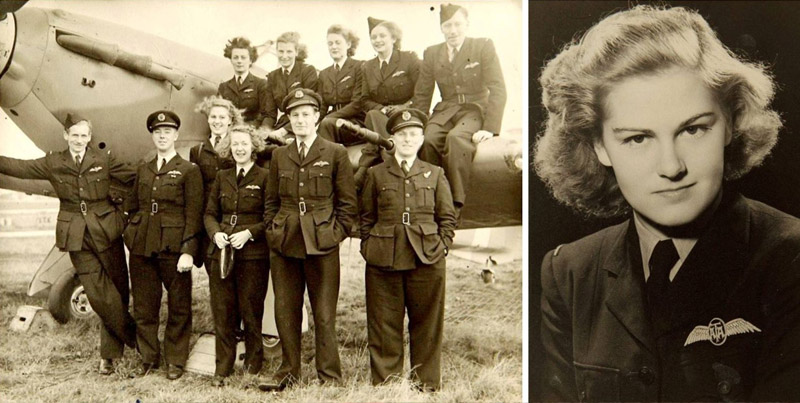 Qualified to fly many types from light trainers to light twin-engine aircraft and single-seat fighters, Joy said that without a driving licence at the time she found "taxying much more difficult than flying"! In all, Joy flew 18 different types of aircraft across her career, but the "wonderful" Spitfire remained her favourite. As she said in her article in the Club 2016 Autumn Journal: "I came to the opinion that the Spitfire was the nearest thing to having wings of your own". She also said: "It really was the best job for women to have during the war because it was exciting and we could help the war effort. In many ways, we were trailblazers for female pilots in the RAF."
The ATA suffered 173 fatalities during the war, mostly due to bad weather, but Joy said that "when you are young you don't think about the danger. It was just part of the war effort. I felt very lucky that I was allowed to do something so rewarding."
After the war Joy had to give up flying and she became a teacher. Married twice, she had three children. Her second husband, Charles Lofthouse, a former RAF bomber pilot, died in 2002, aged 80.