Header image: BBMF C-47 Dakota ZA947 flies past with undercarriage down and the loadmaster waving from the open door. (Photo: RAF Coningsby Photo Section © Crown Copyright)
BBMF Dakota ZA947 was constructed as a C-47A by Douglas at Long Beach, California, USA, in 1942. It was delivered to the USAAF on 7th September 1942, 75 years ago this month. A little over a week later, on 16th September, it was transferred under the Lend-Lease agreement to the Royal Canadian Air Force (RCAF), re-designated as a Dakota III and allocated the RCAF serial number '661'. During the Second World War Dakota '661' served entirely in Canada.
After the Second World War had ended Dakota '661' was deployed to Europe with the RCAF and operated in support of the Canadian forces from 1965 until 1969 when the aircraft was declared surplus to requirements. For the next 23 years the Dakota was operated by the British Royal Aircraft Establishment (RAE). Initially, it was given the RAF designation KG661, but in the late 1970s it was realized that the serial number KG661 had, in fact, previously been allocated to another Dakota which had been destroyed in an accident. The error was reported and in July 1979 the Dakota was allocated the 'modern' serial ZA947, which explains why this serial does not match the age or era of the aircraft.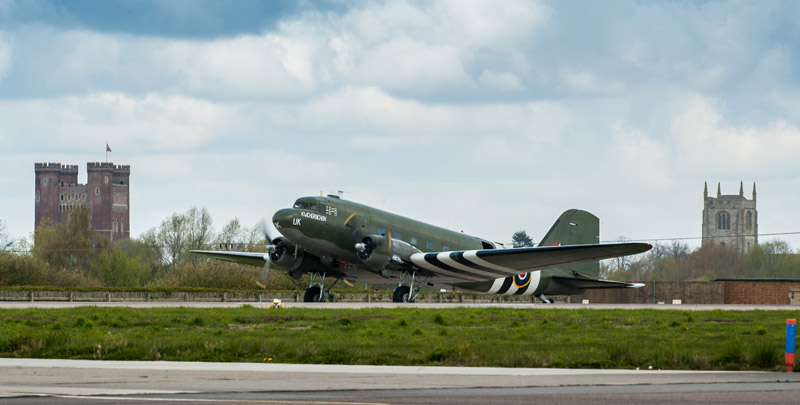 When the Defence Research Agency – the successor to the RAE – declared ZA947 surplus to their requirements and offered it up for disposal in 1992, the aircraft was adopted by RAF Strike Command to be issued to the BBMF. It was taken on charge by the Flight in March 1993. It serves with the BBMF as an important multi-engine tailwheel training asset, but is also a sought-after display aircraft and a flying memorial to the brave RAF personnel who flew and operated these unarmed transport aircraft during World War Two.
Unfortunately, as we pass the BBMF Dakota's 75th birthday, ZA947 is unserviceable awaiting a replacement starboard Pratt and Whitney Twin Wasp engine. As the engine is not expected until after the 2017 display season has finished, the decision has been taken to commence the Dakota's annual 'winter' servicing earlier than usual. It is hoped that the aircraft will then become available earlier than usual for crew training next year.