Header image: The veterans group with their escorts in front of BBMF Lancaster PA474 on 23rd August 2018. (All photos: Clive Rowley)
The BBMF organised another of its 'Veterans Days' on Thursday 23rd August, giving a small group of nonagenarians the chance to visit and be hosted by the Flight for the afternoon, at its base at RAF Coningsby.
Some of the veterans had visited the BBMF before, but some had not. They gathered in the BBMF's 'Lancaster Lounge' and were served a buffet lunch whilst chatting with members of the BBMF and amongst each other. More than 70 years after their wartime experiences, some memories are fading, but a story from one of them triggered a tale from another, and they certainly had some stories to tell.

The plan for the afternoon had included the Lancaster flying a sortie from Coningsby. Unfortunately, a technical 'snag' with the big bomber was not rectified until just after the cut-off time to make the sortie, so it remained in the hangar. However, the group enjoyed getting up close and personal to the 'Lanc' and hearing about it from BBMF Lancaster flight engineer Master Aircrew Rick Gomez. The group was able to hear the roar of Rolls-Royce Merlin engines when BBMF Hurricane LF363 and Spitfire Mk IX MK356 took to the air, giving a personal flypast over the veterans on departure.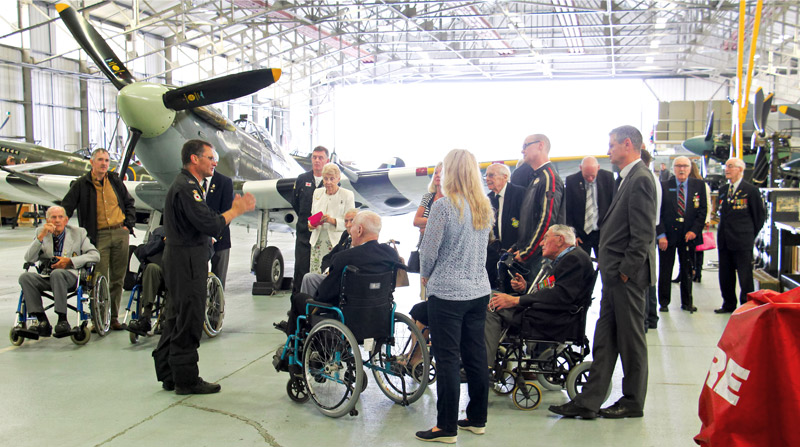 These were the visiting veterans with their remarkable wartime 'CVs':
Arthur Atkinson was a Lancaster wireless operator who flew 34 'ops' with 61 Squadron at Coningsby in 1944, mainly flying in Lancaster LM452 'QR-T'. Just two days after Arthur had completed his tour of 'ops' this aircraft was shot down and lost over France on 28/29th July 1944, with the deaths of all but one of its new crew.
Martin Catty was a Lancaster navigator with 514 Squadron based at RAF Waterbeach. He completed a tour of 40 'ops'.
Ron Inge was a Handley-Page Halifax wireless operator with 578 Squadron, based at Burn in North Yorkshire. On his fourth operation – a raid against Gelsenkirchen – on 11th September 1944, his Halifax, NA568 'LK-Q', was hit by 'flak' which killed the rear gunner. The other six members of the crew baled out over enemy territory and spent the rest of the war as a POWs. He was involved in the 'Long March' of POWS across Northern Germany in 1945, in freezing temperatures, when he was still only 19 years old.
Rupert Noye DFC was a Lancaster rear gunner who served with 12 Squadron at Wickenby, before joining 156 (Pathfinder) Squadron at Upwood. He flew operationally for over a year up to the end of the war in Europe and completed no fewer than 72 'ops'!
Harry Parkins was a Lancaster flight engineer who completed 45 'ops' with 630 Squadron at East Kirkby and 576 Squadron at Fiskerton. He and his crew survived a mid-air collision with another Lancaster over East Kirkby airfield which wiped off their aircraft's tail wheel and H2S radome. However, the other Lancaster crashed with the loss of all on board. He also took part in the Operation Manna food drops to the starving Dutch population in May 1945.
Fred Vines served in the RAF from 1940 to 1946, ending in the rank of Warrant Officer. As aircrew he flew in Short Stirling and Lancaster bombers with 115 Squadron at Witchford.
Tom Walker was a Halifax flight engineer with 462 (Special Duties) Squadron RAAF, based at Foulsham, Norfolk, as part of 100 Group, which specialised in electronic warfare. The unit's Halifaxes were modified to carry jamming equipment and other countermeasures, with an eighth crew member, a German-speaking Special Duties Operator, and mounted diversionary 'spoof' raids. Tom joined the squadron in March 1945 and flew 8 'ops' before the war in Europe ended.
Jack Watson DFM was a Lancaster flight engineer who completed an incredible 77 'ops' between 1943 and the end of the war, most with 12 Squadron from Wickenby and with 156 (Pathfinder) Squadron based at Upwood. He visited most of the industrial targets in Germany, including those in the Ruhr, he went to Berlin several times and survived the infamous Nuremberg Raid in March 1944. As a Pathfinder he often acted as bomb aimer, as the actual bomb aimer was busy as the second navigator over the target.
John Watkins was a wireless operator/air gunner who primarily served with Coastal Command flying Consolidated PBY Catalina and Short Sunderland flying boats. He served in many areas around the world, as far afield as the Bahamas and the Far East. He also flew Liberator, Lancaster and Halifax bombers.
Betty Hignell was trained as an engineer by the Aero Industrial Board, having been conscripted into the aircraft industry at the age of 18. She was seconded to Ludlow Brothers engineering firm in Birmingham, which made parts for the Lancaster. She became an independent inspector, checking 16 different parts of the Lancaster tail section at the rate of 20 per day and passing them as fit for use with her own special stamp.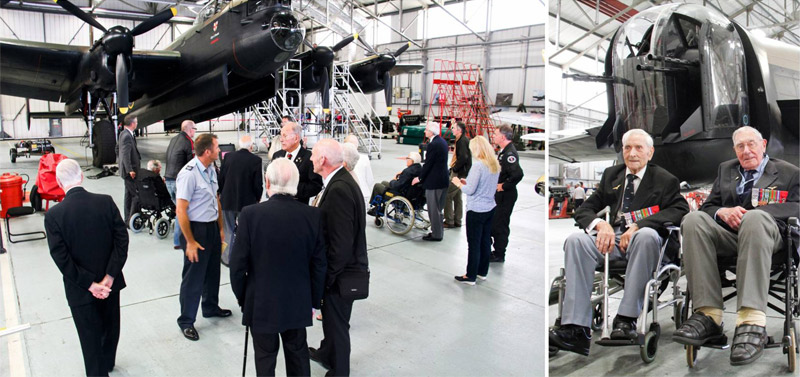 The veterans clearly enjoyed their time with the BBMF. For members of the Flight the opportunity to be in the company of heroes, to chat with them and to hear their stories was truly humbling. The veterans were all typically modest about their incredible wartime experiences, but all had retained their aircrew sense of humour.