Header image: Arnhem Bridge today, the site of an epic battle in September 1944.
The Battle of Arnhem – Operation Market Garden – which took place between 17th and 25th September 1944, was made famous by the book and film of the same name 'A Bridge Too Far'. This month sees the 75th anniversary of the epic, costly and ultimately unsuccessful battle, with large scale commemorations planned to take place in the Netherlands.
Over 11,500 British and Polish Airborne troops landed at Arnhem in September 1944 by parachute and gliders. Almost 1,500 were killed in the fighting and over 6,000 were taken prisoner by the Germans. Miraculously, some 4,000 were evacuated safely, including 240 who were hidden by local people and, with the help of the Dutch Resistance, were spirited away later.

RAF transport aircraft towed gliders to Arnhem to deliver troops of the 1st Airborne Division on 17th September 1944, whilst USAAF Dakotas dropped the paratroopers. On subsequent days, up to 25th September, the attempts to re-supply the troops by air became a hugely dangerous and personal crusade for the RAF transport crews, who took enormous risks and paid a heavy price in their efforts to sustain the Allied Airborne troops on the ground. In total the RAF's 38 and 46 Groups flew 611 sorties in support of Market Garden, mainly with Short Stirlings and C-47 Dakotas. Some 14.5 per cent of the transport aircraft employed on the operation failed to return. Look out for a feature article in the forthcoming RAF Memorial Flight Official Club Autumn Journal for 2019, which tells some of the individual stories of heroism by the RAF Dakota crews over Arnhem.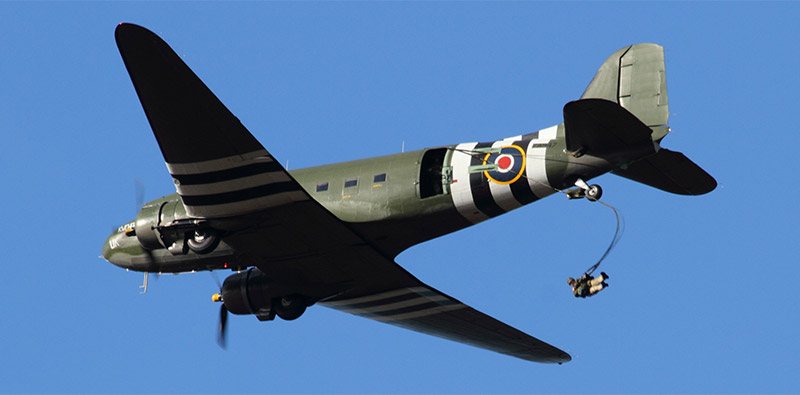 The BBMF Dakota will, weather permitting, be taking part in the 75th anniversary commemorations of the Battle of Arnhem later this month. This should include dropping British Army Paratroopers of The Parachute Regiment over one of the original drop zones at Ginkel Heath, in the Netherlands, on 21st September.