Header image: Tony Cooper with BBMF Spitfire Mk Vb AB910, which is painted in the colours and code letters of the 64 Sqn Spitfire he flew on D-Day. This picture was taken in June 2015 when Tony was 99. (photo: Clive Rowley)
Regular and long-term readers of these newsletters who know of veteran Spitfire pilot and great friend of the BBMF, Tony Cooper, will be saddened to hear that he passed away peacefully on 26th January, aged 100, in the residential care home where he had been living for the past year. He missed his 101st birthday by 11 days.
Tony Cooper was born in February 1916. His initial attempts to become an RAF pilot were thwarted because the medical showed up a damaged ear drum. However, in late 1937, aged 21, he was accepted for pilot training with the RAF Volunteer Reserve which seemed to be less particular and, as he said, because "There was a war coming".
After training, his above average assessments saw him sent to be a flying instructor, initially in England but then, from November 1940 until mid-1943, in Canada. Whilst in Ontario he met his Canadian wife, Pearl, to whom he was married for 56 years. In June 1943 his continual pestering of the authorities to be allowed to return to the UK and fly operationally was successful and he completed a Spitfire Operational Training Unit course at Rednal, in Shropshire, and was then posted to join 64 Squadron, flying Spitfires.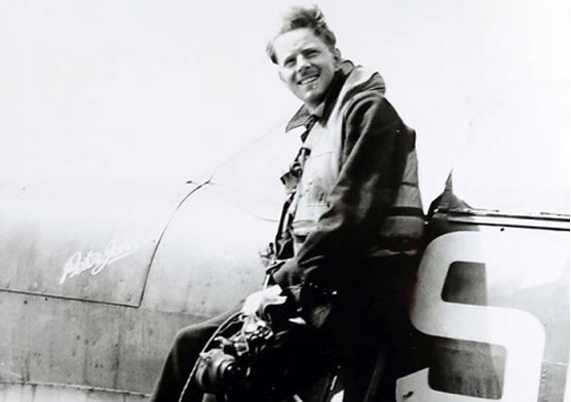 In total, Tony Cooper flew 3,200 hours and completed 160 operational sorties. He also survived five forced landings, two of them at night, two on fire and one as a result of being hit by enemy ground fire. He became a flight commander on 64 Squadron and frequently led the Squadron on operations. He was involved in fighter and ground attack sorties during the build-up to 'D-Day' and during the invasion itself, flying two sorties on 6th June 1944 providing fighter cover over Utah and Omaha beaches. Afterwards he continued to fly operationally until November 1944, completing numerous ground attack missions over enemy occupied Europe, including supporting the famous and heroic, but ultimately unsuccessful, Airborne operation at Arnhem.
After the war Tony returned to his home town of Lowestoft and became the fifth generation to work in the family wholesale business, WB Cooper Ltd. He led an immensely full life, remaining active into his late 90s, swimming regularly and visiting the gym to keep fit, and enjoying driving his fast BMW sports saloon car. Tony had two children, five grandchildren and four great-grandchildren.

In June 2015 Tony was made a 'Chevalier' (Knight) of the order of the Legion d'Honneur by France, in keeping with the country's policy of awarding the honour to all surviving D-Day veterans who had helped to liberate France. He was surprised but immensely proud of this award.
In February 2016 Tony celebrated his 100th birthday in style with a gathering of over 100 guests, including some of his RAF BBMF friends, at a special reception in a hotel near his home, an occasion he was able to enjoy fully before ill health took its toll on him.
Tony Cooper's passing will be mourned by the BBMF and he will be missed by those who knew him personally. We feel that we were privileged to have known him and to have called him a friend. Tony will be remembered in the best way possible, with BBMF Spitfire Mk Vb AB910 painted as the 64 Squadron aircraft he flew on D-Day – BM327 'SH-F' "PeterJohn1" (named after his new-born son) – a flying memorial to him and all his colleagues.