Header image: Hawker Typhoon Mk 1B MN235 in the BBMF hangar, photographed from the vantage point of the Lancaster cockpit. (All colour photos: Clive Rowley)
The world's sole surviving complete Hawker Typhoon is making a guest appearance in the BBMF hangar at RAF Coningsby for the next two months in a joint project between the Royal Air Force, the RAF Museum and BAE Systems.
Hawker Typhoon Mk 1B MN235 is the only complete survivor of the 3,317 'Tiffies' built between 1941 and 1945. All but 15 of the total number of Typhoons produced were assembled by the Gloster Aeroplane Co Ltd at Hucclecote, Gloucester. MN235 first flew from Hucclecote on 8th February 1944. It never flew with the RAF, but was instead shipped to the USA intended for trials work. In fact it only flew a total of nine hours before being grounded and placed in storage. It was acquired by the RAF Museum in 1968 and after some refurbishment was displayed in the museum at Hendon from 1972 to 2013. After being repainted into the representative markings of a Typhoon of 440 Squadron (RCAF) with underwing D-Day invasion stripes and the code letters 'I8-T', it was loaned to the Canada Aviation and Space Museum, Rockliffe, Ottawa in 2014. This remarkable survivor has now returned to the UK and will be on display at the BBMF as a static exhibit until the end of September. (Some readers may be disappointed to learn that there is no intention to make MN235 airworthy and this is a static exhibit only!)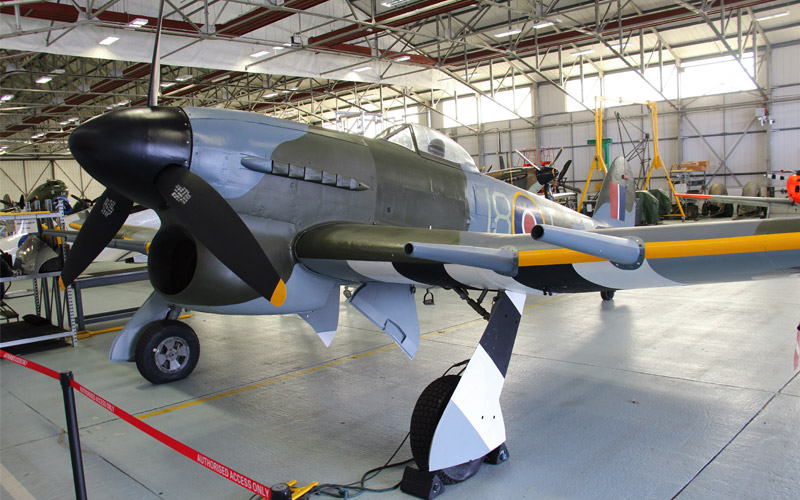 The Typhoon is a large and imposing aircraft for a single-seat fighter, with a wingspan of 41½ feet (12.65 meters) and a massive three-bladed 14-foot (4.3-meter) diameter propeller. The cockpit is 8 feet (2.4 meters) above the ground. Loaded for a fight, the Typhoon could weigh up to 13,250lbs, or six tons (6,000kgs). It was fitted with a massive 'H'-layout, 24-cylinder Napier Sabre engine, one of the most complex piston engines ever built, with a displacement volume of 36.7 litres and a power output in excess of 2,000hp, with the later versions having an astonishing 3,000hp in reserve (with injection of a mixture of water and ethanol). The 'Tiffy' was something of a 'beast' to fly. It cruised fast, typically 350mph, with a maximum level speed of around 400mph. In a dive it picked up speed very quickly, but was (officially) limited, for stability reasons, to 400mph loaded with bombs or rockets, although it was cleared to 525mph without them.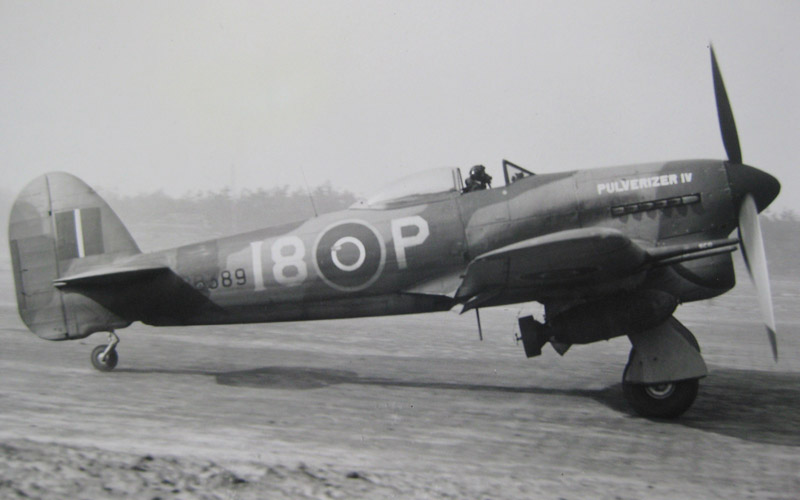 The Typhoon had a troubled introduction to RAF service from August 1941, with engine failures and the loss of a number of aircraft when the entire tail units broke off in flight. However, by D-Day the Typhoon was the RAF's dedicated fighter-bomber aircraft, with 20 operational squadrons available, and it achieved particular fame acting in the close-support role. Once the Second World War was over in Europe and the Typhoon's specialised role was complete, the type disappeared from front-line use in barely a year; most were scrapped with no thought given to preserving any for posterity.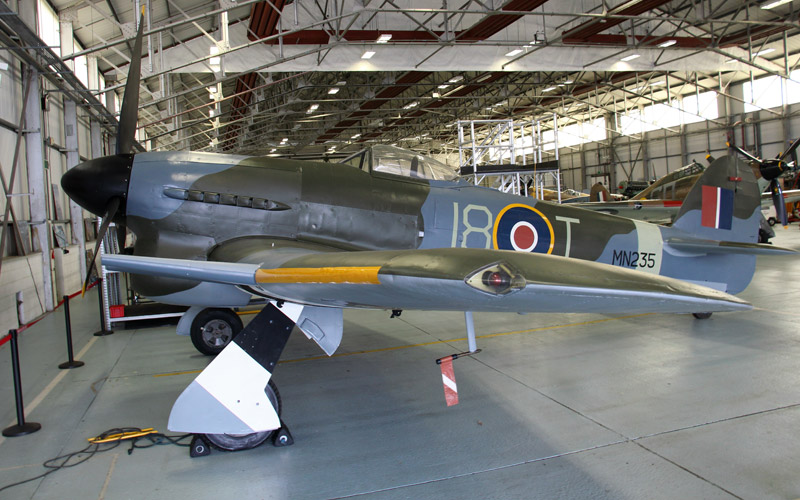 If you would like to come and see the last surviving 'Tiffie' it will be part of the BBMF Visitor Centre guided hangar tours until the end of September (free to Official Club members on production of a valid membership card).