Header Image: Left: John Bell – Lancaster bomb aimer – in wartime. Right: John (on the left) with fellow centenarian veteran George Dunn on John's 100th birthday on 25th March. (George was a pilot who flew Halifaxes, Mosquitoes and Spitfires. He celebrated his 100th birthday on 21st September 2022.)
A special friend of the BBMF, veteran Second World War RAF Bomber Command Lancaster bomb-aimer Wing Commander (Retd) John Bell MBE DFC LdH, celebrated his 100th birthday on 25th March 2023.
John Bell will be known to some Club members because of his association with the real 617 Squadron Lancaster named "Thumper Mk III" (DV385), a colour scheme which the BBMF Lancaster PA474 wore from September 2012 to 2016. John flew 27 of his 28 'ops' with 617 Squadron in the real "Thumper Mk III".
John volunteered as RAF aircrew in June 1942 at the age of 18, the minimum age to sign up, and he was called up in September. At 6 feet 4 inches tall he was told he was too tall to be a pilot and so he trained in South Africa as an observer, combining the roles of navigator, bomb-aimer and gunner. On returning to England, he was posted as a bomb-aimer, the crew position he occupied for all of his 50 Lancaster bombing 'ops'. He joined a crew captained by Flying Officer (later Flight Lieutenant DSO DFC) Bob Knights and, after completing their conversion training, the crew was posted to 619 Squadron at Woodhall Spa in the summer of 1943. John was now 20 years old.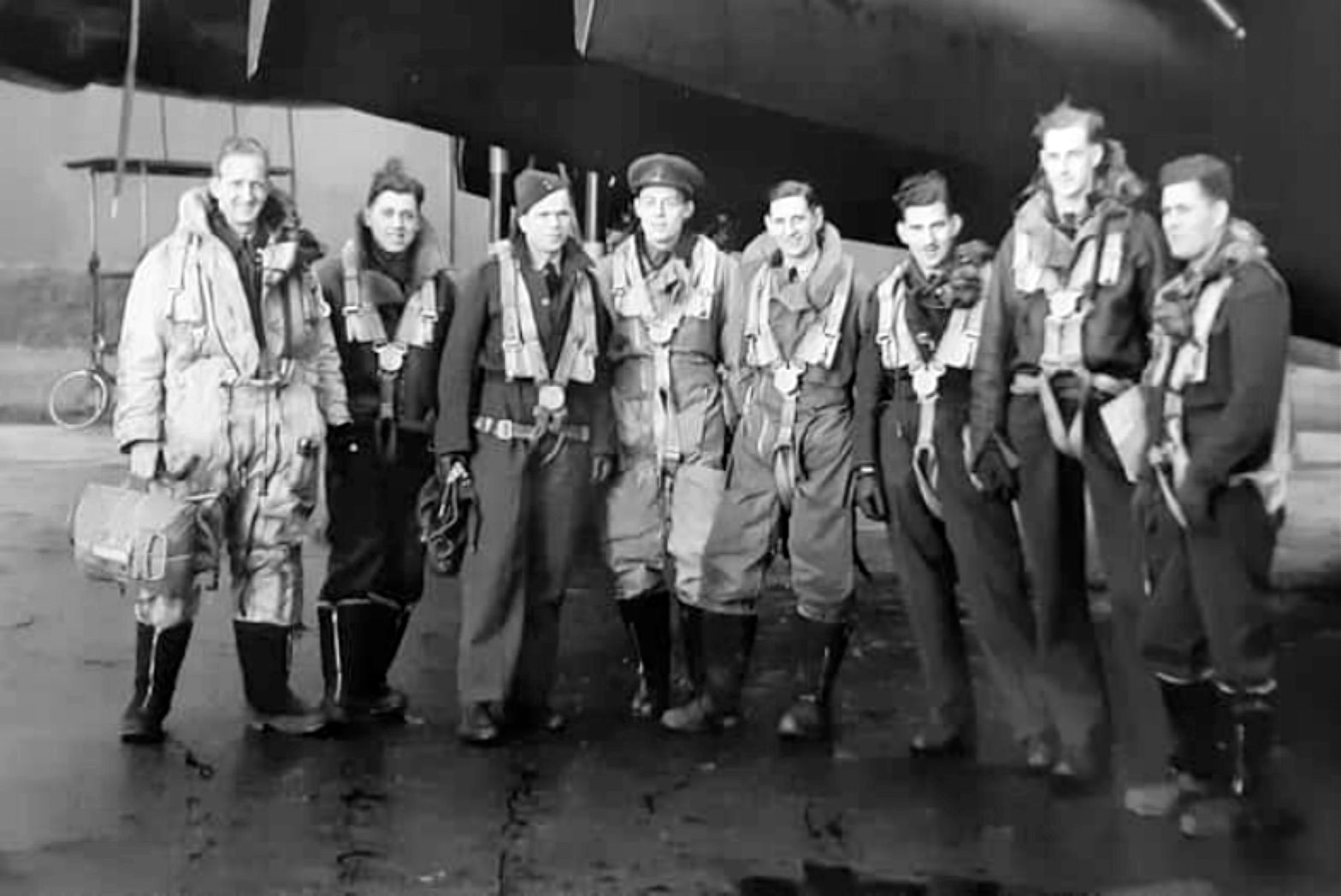 The crew's first 'op' was flown on 24th July, to Hamburg. During the winter of 1943-44, the crew flew to Berlin eight times, during the so-called "Battle of Berlin". After six months on 'ops' the men in Bob Knights' crew were reaching the end of their first tour, with the likelihood that they would then be split up and sent to training jobs. They decided it would be better to stay together and so volunteered for a second immediate tour of 'ops' with 617 Squadron. After an interview with the CO of the squadron, Wing Commander Leonard Cheshire, the crew joined 617 Squadron at Woodhall Spa on 29th January 1944. (619 Squadron had by now moved to Coningsby, swapping bases with 617 Squadron.)
The crew's 619 Squadron Lancaster had been named "Thumper Mk II" and with 617 Squadron their aircraft, Lancaster B.I DV385, became "Thumper Mk III". Their 'ops' with 617 Squadron included attacks on viaducts, a railway tunnel, 'V'-weapon sites, and E-boat and U-boat pens, as well as the squadron's vital contribution to the D-Day invasion, the 'spoofing' operation named Op TAXABLE. On nine of their 'ops' John aimed and dropped 'Tallboy' 12,000-lb "earthquake" or "bunker buster" bombs, using the special Stabilised Automatic Bombsight (SABS) that only 617 Squadron was equipped with. His last 'op' was flown on 5th August 1944, dropping a 'Tallboy' against submarine pens at Brest.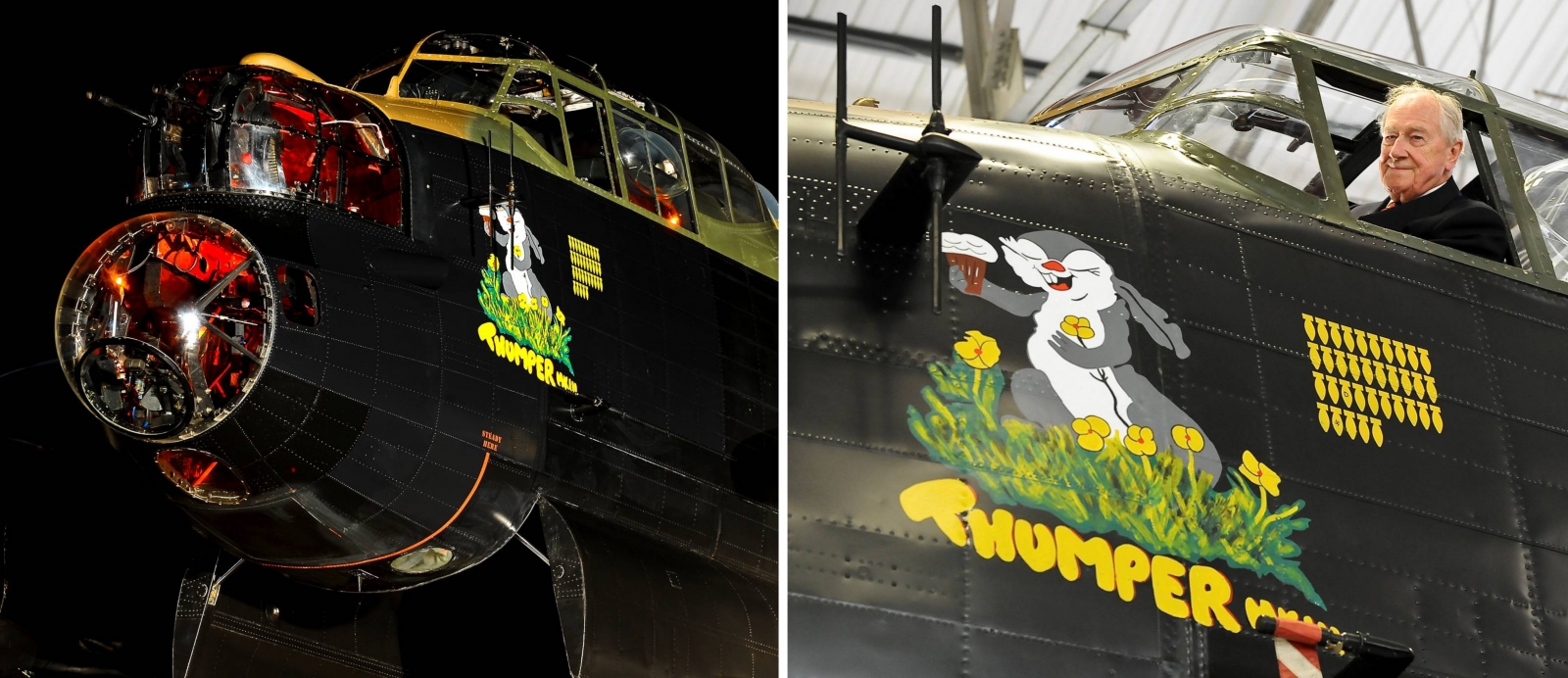 When John had completed a total of 50 'ops' he was awarded the DFC and allowed to step back from operations. His luck had held this far, but enough was enough and it was time to stop. Subsequently he became an Admin (Accounts) Officer for six years and then became a Photographic Interpreter for the rest of his career, serving during the Korean War and eventually leaving the RAF on retirement in 1977 as a Wing Commander. He is an MBE and has the DFC as well as two Korean War medals and is now also a holder of the French Legion d'Honneur.
In retirement John remained active in his community, becoming a local councillor and deputy mayor of Huntingdon. He moved to West Sussex in 2004. He has been the president of the 617 Squadron Association and actively campaigned for the Bomber Command memorial in London and the International Bomber Command Centre in Lincoln. He has also visited the BBMF on numerous occasions and become a good friend of the Flight.