Header image: BBMF Spitfire MK356 in its current desert camouflage scheme. (Photo: Rich Cooper)
Spitfire MK356 was part of a batch of Mk IX Spitfires built at the Castle Bromwich factory in early 1944. It was fitted with full-span wingtips and a Rolls-Royce Merlin 66 engine with a two-speed, two-stage supercharger optimised for low altitudes, making it a L.F. (Low Flying) Mk IXe. On 4th February 1944 MK356 was delivered to the RAF, being flown from Castle Bromwich to No 9 Maintenance Unit at Cosford, where it was fitted with operational equipment. This remarkable and beautiful Spitfire has, therefore, just passed its 75th birthday.
On 11th March 1944 MK356 was allocated to the recently-formed 443 ('Hornet') Squadron RCAF, part of No 144 Canadian Wing at RAF Digby (only 10 miles from the aircraft's current home at RAF Coningsby); it was issued to 'B' Flight and painted with the code letters '2I-V'. MK356 flew all of its 60 wartime operational sorties with this unit between 14th April and 14th June 1944. It took part in the D-Day operations and one of its pilots, Flying Officer Gordon Ockenden RCAF, claimed a shared confirmed kill against a German Me Bf109 on 7th June, D-Day+1.

There are currently only eight Spitfires worldwide that flew operationally with the Royal Air Force or its affiliated air forces on D-Day, that are still airworthy. MK356 is one of these, a genuine D-Day veteran, and it will have a part to play this year in the 75th anniversary commemorations of D-Day.
After 'belly landing' with its undercarriage retracted on returning from its 60th wartime operation on 14th June 1944, MK356 spent over 53 years on the ground, whilst remaining in RAF hands. Having been returned to airworthy condition at St Athan, MK356 joined the BBMF collection in November 1997.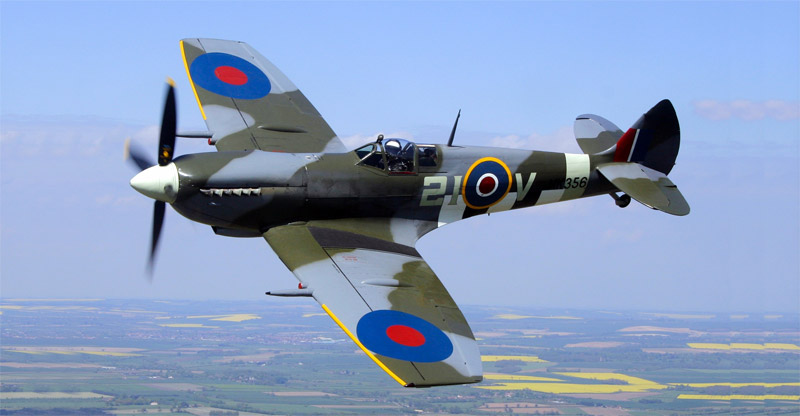 MK356 is now painted in desert camouflage, representing a Spitfire Mk IX of 92 Squadron in Tunisia in 1943. Currently undergoing an 'Annual' maintenance programme in the BBMF hangar at Coningsby, MK356 is scheduled to be flying again by April, over 75 years since it first took to the air.