The RAF Memorial Flight Official Club Autumn Journal for 2017 will be sent out to members in the next couple of weeks. The 72-page magazine is packed with stunning photographs of the BBMF aircraft, many of them taken this year and previously unpublished. It also contains fascinating feature articles providing insights into the Flight's operations, the history of its aircraft, and stories from the Second World War.
This issue is unashamedly Lancaster orientated. The regular "Focus on…" feature this time spotlights Lancaster PA474 and the aircraft's remarkable history, as well as the many colour schemes it has worn over the years. Seb Davey tells us in his own words what it is like to fly the 'Lanc' as a pilot and captain, and we also look at the roles and duties of the BBMF Lancaster flight engineer, explained for us by the BBMF Flight Engineer Leader, Jim Stokes.
Providing a wartime focus, "Dangerous Clouds" is an article written by 460 Squadron Lancaster rear gunner, Dave Fellowes – who sadly passed away in June this year – in which he tells the dramatic story of a night time mid-air collision between his 'Lanc' and another over France.
As the recent articles on building Spitfires and Hurricanes were so well received, this journal also contains a feature detailing how Avro Lancasters were manufactured and assembled during World War Two.
Other BBMF aircraft are not forgotten and the magazine includes a fascinating article by BBMF navigator, Tony Beresford, on the perhaps surprisingly complicated skill of dropping paratroopers from the C47 Dakota. In addition, Spitfire Mk Vb AB910's involvement in the Dieppe Raid 75 years ago is investigated with some previously unpublished detail.
Click here or on the image below for a closer look at the some of the pages as a taster: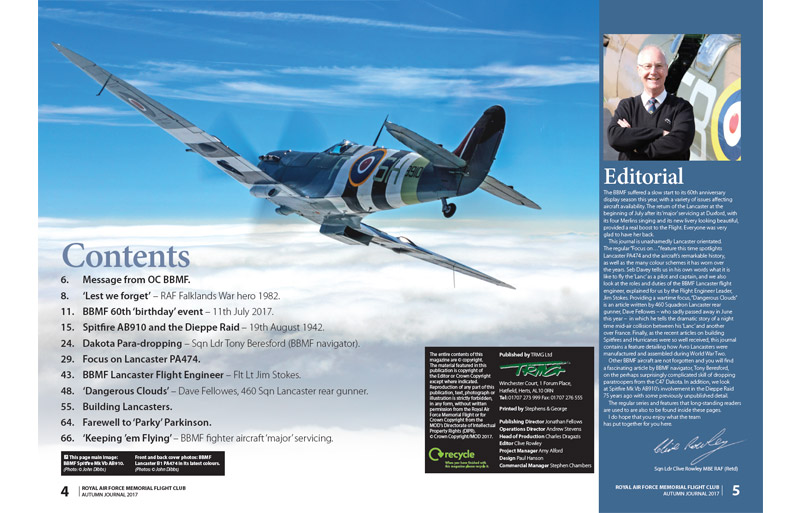 The BBMF autumn journal is NOT on sale to the general public. It is available only to members of the RAF Memorial Flight Official Club. Join the Club today to receive your free copy and all of the twice-yearly BBMF magazines, as well as the monthly e-newsletters.